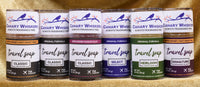 Travel Soaps Are Here!
Take your favorite natural soap on the go.
Portable and compact for handwashing on the go.  Toss your favorite fragrance-free soap in a schoolbag, pocket, glovebox, tackle box, purse, or backpack.  TSA compliant.  
Shop all travel soap sticks
Signature Series Soap
The perfect balancing act, our Signature Series starts with finding that happy medium between the softness of olive oil soaps and the firmness of coconut oil soaps. Made with organic oils, this line offers a rich, creamy lather and a gentle clean.

Available in original formula, ground coffee, activated charcoal, honey/oat/goat milk, or rose kaolin clay. Always fragrance free!
Signature series natural soap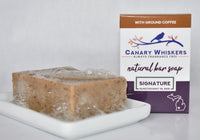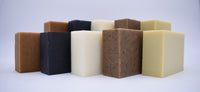 Our Choices Make A Difference
Canary Whiskers Soap Company strives for minimal ingredients and uses no fragrances, dyes or essential oils. We are doing our part to reduce the stress on our bodies and our precious planet.  
READ MORE