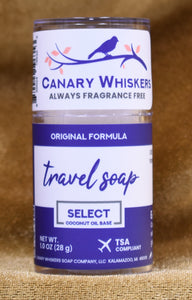 SELECT SERIES:  Organic coconut oil forms the base of our Select Series, which is infused with an extra dose of the oil to create a hard bar that is long-lasting, bubbly, and mild soap.
1 oz. travel soap sticks:  Portable and compact for handwashing on the go.  Toss your fragrance-free soap in a pocket, glovebox, tackle box, purse, or backpack.  TSA compliant.  
USE:  Wet hand, rub soap stick on skin.  Wash hands for 20 seconds.  Wipe soap dry, recap.  
INGREDIENTS:  *coconut oil, water, sodium hydroxide, potassium hydroxide (*organic-sourced ingredient)
NOTE:  As the soap cures, and also as the soap is used over time, the tension-fit push-up mechanism can loosen.  The soap will continue to perform as normal.  If this occurs, push up on the base from the bottom during use.